For Immediate Release September 1, 2018
Contact: Nancy Valentine
[email protected]
520-398-9571
Old Town Tubac Historic Adobe Buildings Open Doors to History Buffs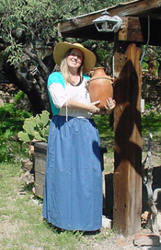 Tubac, AZ—A rare opportunity to tour inside some of Tubac's oldest historic buildings will take place during the Old Town Tubac Historic Adobe Building Tour on Saturday, November 10, 2018, from 10 a.m. to 3 p.m.
The Tubac Presidio State Historic Park and the Lowe House Project artist residency program are sponsoring the tour throughout Old Town Tubac to bring attention to and appreciation for these historically significant buildings in Tubac's National Historic District and to the lives and times of their occupants.
Knowledgeable docents and costumed living history interpreters, including descendants of original occupants, will greet and escort small groups through the buildings pointing out historical and architectural features in each of the eight buildings. They will share what is known of the building's beginnings, their uses over time and tell stories about their occupants that have been passed down for generations.
One of the buildings is believed to have garrisoned Spanish Colonial Soldiers in the mid-1700s. Carbon dating of another confirms it's origin to the 1850s and home to one of Arizona's earliest 19th century Anglo settlers. Others were built on existing foundations at the turn of the 20th Century by Tubac's Hispanic Heritage Families. The tradition of Tubac: Where Art and History Meet and Tubac's artist colony had their modern beginnings in some of these buildings appearing on a 1767 Spanish map.
Among the exhibits will be paintings of some of Tubac's early art colonists and those of today's Tubac artists featuring Old Town Tubac scenes.
All Tubac roads lead to the start of the tour at El Presidito—home to working artists studios and the Tubac School of Fine Art—located at 4 Calle Iglesia at the corner of Burruel Street and Calle Igesia. At El Presidito, tour participants will receive a booklet/ticket which includes a map to the tour locations and images and additional information about each of the buildings and their occupants. Parking is available at Tubac Presidio State Historic Park at 1 Burruel Street, a short distance from the start of the tour, and on streets surrounding Old Town Tubac.
The Old Town Tubac Historic Adobe Building Tour is one of several special events scheduled in celebration of the Tubac Presidio State Historic Park's 60th Anniversary. The Lowe House Project artist in residency program, celebrating its fifth year, continues the tradition of "Tubac: Where Art and History Meet" in the historic Lowe House which has housed working artists since 1965 and is one of the historic buildings included on the tour.
All of the buildings are within walking distance of one another. Some retain characteristics of their humble beginnings while others reflect architectural features added during their over 100-year existence. Access to and within some of these historic privately owned buildings include steps and irregular walking surfaces and are not wheel-chair accessible and could be problematic for individuals with mobility issues.
Proceeds from the sale of tickets will support the missions of the Friends of the Tubac Presidio and the Lowe House Project. Both are 501 (c ) (3) non-profit organizations. Tickets are $40 per person. Children with adult supervision and students with identification are free. Parents, groups and teachers working on classroom projects with students are entitled to discounted rates.Tickets may be purchased by calling the Presidio or on the day of the tour with cash or check only.
For more information, call Tubac Presidio State Historic Park at 520-398-2252, visit and lowehouseproject.com. For Information about discounted rates, contact the Lowe House Project at 520-398-9571.
OLD TOWN TUBAC  HISTORIC ADOBE BUILDINGS FACT SHEET
• Archaeologists have verified the Santa Cruz River Valley and Tubac Valley have been inhabited for 10,000 years.
• A Spanish fort or presidio was established in 1752 in what is today Old Town Tubac,
• A 1776 map of Tubac executed by Joseph de Urrutia shows where buildings existed then and now.
• In 1821, Tubac became a part of Mexico and was a vital and significant farming and trade community.
• Tubac buildings from the 1820s through Territorial Times to Arizona Statehood in 1912 were homes, schools, and stores supporting early Santa Cruz Valley settlement and ranching, farming and mining enterprises
• In 1857, the "Father of Arizona", Charles Poston, restored existing Old Town Tubac adobe buildings for the headquarters of the Sonora Exploring Mining Company.
• Beginning in 1948, Tubac's historic adobe buildings were restored and renovated for use as the homes, studios and galleries of artists and entrepreneurs creating "Modern Tubac" and the beginning of the tradition of "Tubac: Where Art and History Meet."
• In 1957, Tubac residents began efforts to establish Arizona's first state park—Tubac Presidio State Historic Park and Museum—which now includes three restored historic adobe buildings, museum, exhibits, and an underground archaeological dig site, gardens and on-going events featuring Tubac's cultural heritage.
• In 1969, Tubac residents successfully negotiated the purchase of the 1885 School House by State Parks for the Tubac Presidio State Historic Park and Museum.
• In 1983 the Tubac Historic District was established by Santa Cruz County for guidance and oversight for maintaining the historic integrity of Old Town's streetscape.
• In 1994, Tubac residents were successful in establishing Old Town Tubac as a National Historic District with 24 buildings and structures listed on the National Register of Historic Places.
Note: Additional information and photos of Old Town Tubac's Historic adobe buildings are available upon request. Contact [email protected]