For Immediate Release June 24, 2019
Contact: Nancy Valentine
[email protected]
520-398-9571
Real Sunflowers Already Growing Tall for Tubac's 3rd Annual Van Gogh Sunflower Paint Out and Auction 9/28/19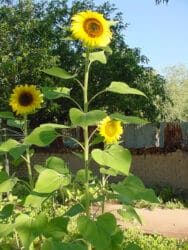 Tubac AZ–Real sunflowers (if the javelinas and grasshoppers don't eat them) juxtaposed against buildings throughout the historic artist colony of Tubac will be the inspiration for plein air painters during the 3rd Annual Van Gogh Sunflower Paint Out, Auction and Reception, with live entertainment provided by Tige Reeve, to be held Saturday, September 28, 2019, at the Lowe House Project artist residency in Old Town Tubac. 
Tubac shops, galleries and restaurants are getting in on the fun and are offering 'Sunflower Madness' specials and discounts at locations where artificial, (and some real) sunflowers will be "blooming."
Event co-chairs, Tubac Village Artists Association members Pamela Wedemeyer and Barbara Kuzara, have passed out packets of sunflower seeds to property owners, businesses and Tubac non-profits for planting to ensure blooming sunflowers for participants to paint and visitors to enjoy.
Participating artists will be painting sunflower scenes throughout the village during the day-long event. At 3:30PM, the artists will display their paintings in the Historic Lowe House and the silent auction and reception will begin. Bidding starts at 1:30PM and ends at 3:30PM. Bidders need to be present to win.
The 'madness' of the Van Gogh Sunflower Paint Out and Auction began two years ago in celebration of the 130th anniversary of artist Vincent Van Gogh's series of sunflower paintings begun in 1887.
The event is a "fun-raiser" for the Lowe House Project. Proceeds from the sale of paintings will benefit the participating artists and the non-profit artist residency program now in its fifth year.
Inquiries by artists regarding participation in the Van Gogh Sunflower Paint Out and Auction can be sent to Pamela Wedemeyer at [email protected]. For general information about the event, contact Barbara Kuzara at [email protected]. For more information about the Lowe House Project programming and events,  contact Nancy Valentine at [email protected].