The Lowe House Project artist residency welcomed creative Chas Martin and his student Daera Dobbs for the Meet and Make Your Spirit Guide Playshop in January. When not working, they had the opportunity to paint and sketch the riparian environment of the Juan Bautista de Anza International Hiking Trail along our Santa Cruz River, make new artist friends, and eat at Tubac restaurants. They raved about a mole (mo-lay) sauce at one of our Mexican restaurants on his first night in the Village.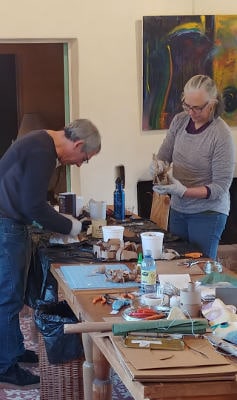 Chas met up with his former Portland studio partner, painter Rick Wheeler, who is a current on-site artist in residence at the Lowe House Project. At a meet and greet the night before the workshop began, Chas introduced the principles fundamental to the playshop to a group of folks interested in his work. His talk was both informational and inspiring. Chas put words and dimension to realities we've forgotten. His "Meet and Make Your Spirit Guide" playshop took us to that place where we could joyfully manifest the memory and the magic!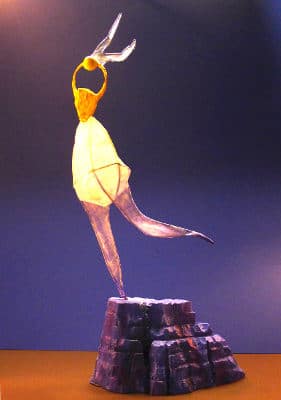 Both Chas and Daeda are from Portland, Oregon and expressed how they relished the "small town" ambiance of this "friendly" place where "…art and history meet."
Seems as though there was a convergence of folks from Portland that week. Portland resident Laura Leiman stayed at the Lowe House Project in the Valentine "Sweet" during her stay in Tubac while attending class at the Tubac School of Fine Arts taught by Ruth Armitage, also from Portland!
It was a wonderful convergence and somehow it seemed the "spirits" were conspiring to have us all meet and connect….a synchronicity we all seemed to sense was meant to be! We hope to welcome all of our Portland creatives back to Tubac very soon.
Check in with Chas for his next workshop at the Lowe House Project at [email protected] or 503-459-1009. And for classes by Ruth Armitage and others at the Tubac School of Fine Arts (just down the street) contact Director Leslie Miller at [email protected] or call 520-398-2589.