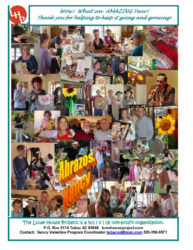 Thank you for considering a tax-deductible donation to the Lowe House Project Artist in Residence program. Here are some ways your donation can make a significant impact.
Sponsorship of Rio Compartido/Shared River artist residencies, educational programming, and exhibitions.
Hector Garcia Moreno, painter and poet, San Miguel de Allende, Mexico. Two week residency to product poetry and paintings inspired by the bi-national Santa Cruz River.
Mike Foster, Patagonia, Arizona. Production of a Santa Cruz River video.
Rio Compartido/Shared River Exhibit in Conjunction with the Smithsonian Institution's WaterWays Exhibit at the Tubac Presidio Oct – Nov 2019.
Expenses for participating and exhibiting artists to conduct presentations of their projects.
Elena Vega – poet, musician, composer. Nogales, Sonora, Mexico.
Abraham Limon Guzman – Nogales, Sonora, Mexico.
Angela Gervasis – photo journalist. Philadelphia, PA.
Susan Flanagan – pastel painter. Illinois.
Ricardo Santos Hernandez – painter. Nogales, AZ/Chicago, ILL.
Jammin' at the Lowe House Educational and Performing Music Venue.
Sharmon Nittoli, musician, composer, performer, and two-time LHP Artist In Residence. Sharman, who has worked with Montessori de Santa Cruz students on original historical performances at the Tubac Presidio, returns to collaborate with local musicians and to organize and provide music lessons.
Scholorship Program for Residence Artists.
Some of our qualifying resident artist applicants require subsidies to offset travel expenses, supplies, and residency fees. Scholarships afford these highly qualified applicants the opportunity to be a Lowe House Project Resident Artist.
General Operating Expenses in Support of Ongoing Free and For-Free Educational Programming.
Expenses for rent, utilities, and supplies, from paper products to cleaning supplies, add up but are essential to keeping the doors open and lights on, and to maintaining a clean and welcoming facility for the ongoing free writers' and poets' groups, book clubs, civic and social community groups, lectures, talks, etc. LHP also offers free-to-the-public "playshops" and workshops to encourage and support the development of creative expression for participants, conducted by local and regional artists who derive financial benefit while sharing their creative skills and talents.
Historic Lowe House Facilities Upkeep and Maintenance.
In keeping with a fundamental mission of the Lowe House Project – fostering the tradition of Tubac: Where Art and History Meet – which involves encouraging and supporting the village's cultural and environmental heritage,  we help foster the legacy of the family of William Lowe, Jr. and the preservation, maintenance, and upgrades of the the Historic Lowe House, which houses all of our Lowe House Project activities. The property is listed on the National Register of Historic Places, with portions of the building dating to 1767.
Please call or email us to discuss how you'd like to contribute in your unique way to the Lowe house Project Artist Residency Program. Or, click the "Donate" button and contribute now.
Thank you,
Nancy Valentine, Program Coordinator
520-398-9671 | Tubacval@msn.com