Through Nov: Rio Compartido/Shared Waterway Exhibit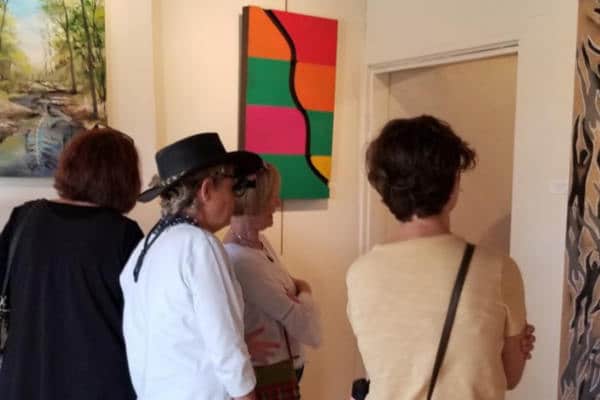 Saturday, October 19, 4:00P – 6:00P. Compartido/Shared River Exhibit Opening & Reception.
EXHIBIT RUNS THROUGH NOVEMBER! The Santa Cruz River, shared by both the United States and Mexico is the focus of artwork by creatives from both sides of the International Border participating in the Rio Compartido/Shared River exhibit. The exhibit is complementary to the Smithsonian Institution's WaterWays traveling exhibit Tubac Presidio State Historic Park  also opening October 19  (see above) and running thou-November 2019.  The public is invited to the opening reception where participating artists from both sides of the International Border will be present to discuss  perspectives of the Santa Cruz River as expressed through their creative work as well as Santa Cruz River aficionados from Mexico and the United States. The two-year project is in collaboration with the Friends of the Santa Cruz River and is being made possible with assistance from AZ Humanities and Santa Cruz Community Foundation. Lowe House Project artist residency is located at 14 Calle Iglesia, Old Town Tubac in the Historic Lowe House in the heart of Old Town Tubac. The historic adobe listed on the National Register of Historic Places is just up the road from the Santa Cruz River  and has sheltered families and enterprises dating back to the 1700s  Spanish Colonial and 1800s Mexican periods.  The Lowe House Project artist residency is an active non-profit organization fostering the tradition of Tubac: Where Art and History Meet through the arts. For more information email
tubacval@msn.com
.