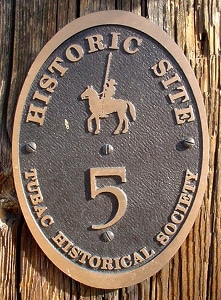 An Arizona 501(c)3 non-profit educational endeavor   
The Lowe House Project artist in residency program is an Arizona 501 ( c ) 3 nonprofit organization in good standing with the U.S. Internal Revenue Service and the Arizona Corporation Commission.
The program was established by the late Gerhard (Gary) Anderson—surgeon, winemaker, musician, sculptor and Friend of Old Town Tubac—who passed away in Tucson in November of 2014.
His goal, and ours today, is to keep working in tandem with Tubac's art and history oriented organizations and individuals to preserve and foster the tradition of "Tubac: Where Art and History Meet."
We Welcome Your Participation and Support
As stewards of a long and rich heritage, we exist to benefit artists from a wide variety of disciplines who desire to expand their creativity and in turn, benefit the community.
Please check our website for updates as we continuously expand our programming. And of course, your donations are appreciated.
Nancy Valentine, President and Acting Secretary
Larry Mello, Vice President
Keri Anderson, Treasurer
Diane Brooks
Peter Zimmerman
And Friends